« PBS spotlight short – The Art of Stop Motion | Home | The Montreal Stop Motion Film Festival 2013 »
September 16, 2013
Stop Motion Works News received new notification about this. Apparently, a very limited edition of the final book in the series about the life of Ray Harryhausen. We posted earlier in the year about this Master of Majicks Vol 1.
The publishers decided to restrict the number of books printed for each volume … one, two, & three. I am not a collector of memorabilia and do not personally buy such items for investment purposes, however if you are, a collector of sorts, this Volume 1 book might be of interest to you. I wished that the publisher would have considered soft paperback editions with a larger print run so more people interested in this unique niche of animation, could have opportunity to access to these books. It looks like, these past several months, the publisher were doing pre-order sales for reserved copies. I do not know if there are any left for reservation.
I only had an opportunity to purchase Volume 3 of Masters of the Majicks. It is a heavy duty massive volume with page after page of photos & information of the most detail nature about Ray Harryhausen and his work. So, I know that Volume 1 will be of same high quality. Here is promotion clips for all of the books ….
VOLUME 1 (Ray Harryhausen on cover)
VOLUME 2 (sold-out, Cyclops on cover) No video available but website link describing it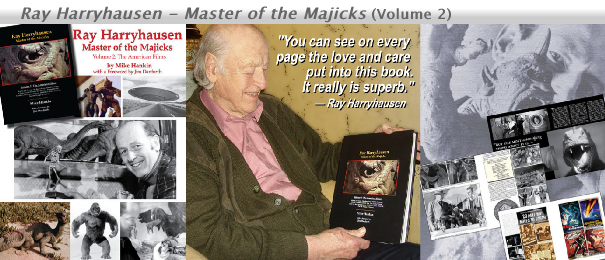 VOLUME 3 (sold-out, Medusa on cover)
So if you are interested and Volume 1 is still available you can order it ($75.00 plus shipping) ….
Master of the Majicks – Volume 1: Beginnings & Endings
NOTE: As I stated, I was only able to purchase Volume 3 Master of Majicks (Medusa cover). These past few years, I read & absorbed the contents of the book and found it to be most informative & enjoyable. I had some thoughts of selling Volume 3 at very reasonable cost. Let me know if you are interested and that might motivate me to depart with the book and hand it over to someone else who will appreciate it as much. :: SOLD ::
Topics: Animators, Behind the Scenes, Biography-Books-History, Dynamation, Stop Motion | No Comments »